1963/64 LTM NATIONAL PANTOMIME
QUEENIE'S DAUGHTER
The Story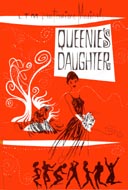 Queenie Innerarity sells a little this and that in Kingston. She is also well known for giving tips on the winning race horses. One morning she passes on her usual tips to Hotel Jamaica owner, Roger Martin, and for the first time, she asks a friend to place a bet for her as well. Queenie's horse wins, but unfortunately, her bet wasn't placed. She had planned to use the money to entertain her daughter in style when she arrives from England in two days.

Queenie is heart broken, Maria, her pride and joy, is a famous opera singer in England. Roger, in appreciation for Queenie's winning tip, offers to host Queenie and Maria at his hotel. There is much excitement indeed when Queenie greets her daughter in fine style, courtesy of her old friend, couturier Madame Serena. Maria arrives with her controlling manager Rudolf deRadzio, and other members of her party - Mrs. Beatrice Bottomley-Hume, her secretary Rachel and their friend Jack who is also a Jamaican.

The foreigners, are treated to a taste of local flavour courtesy of Queenie's friends and the staff of the hotel. Maria, in particular is entertained by Roger who seems to have taken a liking to her. Rudolf is not too thrilled by this, for although, he is busy working out his own dastardly reasons for visiting Jamaica, he feels he must control Maria's every move, and so when Maria decides to stay for a few extra days, he reveals Queenie's low status to Maria. But love will never come between mother and daughter, and Jack, now suspicious of Rudolf, tries to find out his true plans.

Rudolf is discovered to be a smuggler and Maria, truly in love with Roger, decides that her return to Jamaica will be permanent.


Cast of Characters
Queenie: Louise Bennett
Moutamassi: Ranny Williams
Samfie: Raymond Hill
Sonny: Maurice Wilson
Zipporah: Margaret Lubbsey
Bruckup: Wilfred Barker
Roger Martin: Neville Willoughby
Maria (Queenie's Daughter: Mercedes Kirkwood
Mrs. Beatrice Bottomley-Hume: Peggy Carley
Rachel: Elaine Cadogan
Jack: Cecil Cooper
Rudolf deRadzio: Alex Gradussov
Madame Serena: Lois Kelly
Her Assistant: Eleanor Wint
Steward: George Madden
Entre-Acte Girl: Cheryl Ryman
Street Singer: Joyce Lalor
Ship's Officer: Courtney Brammer
Photographer: Noel Heron

In supporting roles: Inez Hibbert, Diane Scott, Pauline Stone, Stanley Irons, Earl Lewis, Blanche Savage, Maurice Wilson, Courtney Brammer, Winston Service, Fitz Weir, Evelyn Cooper

Dancers: Frank Ashley, Judith Cunningham, Ivan Box, Spencer Matthews, Carole McLaren, Tommy Pinnock, Gertrude Sherwood

Musical Numbers
Act One
Races Day
Lucky Day
Money Is A Funny Ting
Poor Queenie Lose Her Money
I'll Be Walking Like A Lady
I Saw My Land
Call Dinah
Miss Queenie Daughter Come
I Remember
Welcome Song

Act Two
It's The Weather
Two Different Worlds
Heel and Toe Polka
I Belong To You
Revival Songs
Weed Song
A Special Kind Of Girl
Under the Banyan Tree
Some People Come
The Man Is A Crook
Congratulations
Lucky Day

Orchestra
Flo Wilson, Pete Stewart,
Noel Peck - Violin
L McCormack, F Walker, H. Walker
Carole Bacon - Flute
Ossie Wilkins - Trumpet
Eric Phillips, Herbert Nelson - Drums
Marjorie Whylie - Leader & Piano