1962/63 LTM NATIONAL PANTOMIME
FINIAN'S RAINBOW
The Story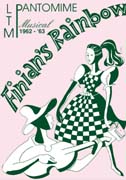 Finian's Rainbow is made up of an enchanting blend of music, comedy, and social commentary, and is alive with movement and colour. It is a fantastic story on two themes:

One, the touching hope of the 'Irish" emigrant that the crock of gold he has stolen from the leprechauns will multiply in the fertile soil adjacent to Fort Knox (with the Government's reserve as an example); and

Two, the fight of an engaging group of sharecroppers to preserve their land against the encroachment of a demagogue from the State of Missitucky - Senator Billboard Rawkins.

The emigrant has an attractive daughter; the sharecroppers are led by a handsome young man; the leprechaun, who comes in search of his lost crock of gold, falls in love with the hero's sister, who "speaks" with her feet as she is mute. Because of the magic of the crock of gold, the Senator is transformed into a likeable person; the sharecroppers retain their land; and the curtain falls with every problem happily solved.


Cast
Buzz Collins : Derek Boughton
Sheriff : Michael Powell
Sharecroppers ................ Cardiff Williams, Billy Dumont, Inez Hibbert, Roy Mattos
Henry .......................... Noel Hall
Finian McLonergan .......... Ranny Williams
Sharon McLonergan .......... Sheila Rickard
Woody Mahoney .............. Percival Darby
Og (a leprechaun) ............. Noel Howes
Howard ........................ Cardiff Williams
Senator Billboard Rawkins ... Rooney Chambers
Geologists ....................... Derek Dalhouse & Ronnie Ludin
John (the Preacher) ............. Arthur Clarke
Mrs. Robust .................... Louise Bennett
Mr. Shears ....................... Alston Blair
Passion Pilgri Gospellers ...... Granville McCalla, Vin James, Alston Bair
Deputies .......................... Billy Dumont, Ronnie Ludin, Huntley O'Connor
Children........................... Wilfred Lindo, Robeana Townsend

Dancers: Gertrude Sherwoood, Joye Abrahams, Pamela Davis, Barbara Kaufman, Lorna Robertson, Norma Thompson, Monica McGowan, Beverley King, Carol Simmons, Hyacinth Beckford, Bertie Rose, Barry Moncrieffe, Frank Ashley, Noel Hall, Huntley O'Connor, Derek Williams, Cardfiff Williams

Singers: (Sharecroppers & Tobacco Girls) Joyce Lalor, Hope Foreman, Paula Brown, Mary Levy, Cynthia Steer, Robeana Townsend, Eleanor Wint, Micky McGowan, Carol Lowe, Charles Clarke, Fitz Weir, Noel Heron, Billy Dumont, Alston Bair, Vin James, Granville McCalla, Derek Dalhouse, Roy Mattos, Ronnie Ludin, David Ebanks.

Orchestra:
Clarinet - John McLeod, Wilfred Drummond
Violin - Flo Wilson, Pete Stewart, Noel Peck
Flute - Lloyd Mason
Bass - Joe Walters
Trombone - Ossie Wilkins
Drums - Bertie King
Piano - Mapetoft Poulle