1964/65 LTM NATIONAL PANTOMIME
BREDDA BUCK
The Story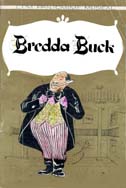 Mr. Buckfast has recently acquired a great fortune. The news causes great excitement in the little rural village of Cubbitch Hole, and there is more good news. Patsy, the daughter of Vervine and Bredda Buck is to be married to her long time sweetheart Reggie. Reggie is a small time farmer who owns the plot of land beside Bredda Buck. Also at the engagement party is Bredda Buck's friend from school boy days - Amos who has just demitted office due to a little problem of mishandling contracts. Anxious to get back in the swing of things Amos invites Bredda Buck to Kingston as he is a man of unlimited ability, and in Kingston Buck can blossom forth like the rose he is.

After some persuading, the Bucks go to town - Bredda Buck to be introduced to high society and Vervine and Patsy to acquire things for the upcoming nuptials. They arrive for their stay at Empire House a broken down big house which holds only a shadow of its once great past. Currently, it is kept in shape by Amos' lady friend Miss Mirrie, who rents out rooms to her relatives to help pay the bills. Amos starts out on his plan to improve his friend's standing. Assisting him is Mr. Parker Smith who will advise Bredda Buck financially and socially. A grand soiree is planned and a visiting Prince from Africa is to be invited. All the excitement goes to Buck's head and he is filled with ideas of his own growing importance and when Reggie turns up, Buck refuses to allow the marriage unless Reggie can fulfill three things - be able to speak 2 languages, pay at least 7/6 in the pound Income Tax and to be a land owner - and not a likkle bit of tuppence ground either!

Patsy is disheartened, Vervine is fuming, she cannot believe Buck's behaviour but Mr. Barrington Brentwood Buckfast Esq. will not change his mind - as a man of substance, his little heiress must be married to someone who can keep her in the lifestyle she is about to become accustomed to.

A plan is soon hatched. Mirrie who it turns out is Reggie's cousin is determined to see him triumph. Amos reluctantly agrees to help as he is unable to secure the Prince's attendance at the party. It is decided that Reggie will pose as the Prince and surely if he shows interest in marrying Patsy - he will not be refused. All goes as planned and just as Bredda Buck thinks his daughter is about to marry royalty, Reggie reveals himself, and points out that he has spoken two languages, and has inherited more land from his cousin - there being no further hindrance - Patsy and Reggie are happily married.



Cast of Characters
Bredda Buck: Hugh Moss-Solomon
Vervine: Maude Fuller
Granny: Inez Hibbert
Minister: Granville McCalla
Reggie: Alston Blair
Patsy: Sheila O'Reilly
Amos: Ranny Williams
Mirrie: Louise Bennett
Parker-Smith: Tony Henry
Four"artists": Derek Dalhouse, Karl Dalhous, Harry Haughton, Bunny McHayle
Cousin Liza: Eleanor Wint
Villagers, relatives etc.:
Singers: Barbara Beavers, Courtney Brammer, Paula Brown, Lauren Burke, Cecil Cooper, Hope Foreman, Stanley Iron, Lennie Little-White, Mabel Miller, Fitz Weir
Dancers: Frank Ashley, Hyacinth Beckford, Jean Binns, Madge Broderick, Audley Butler, Judith Cunningham, Barbara Kaufman, Carole McLaren, Bertie Rose, Neil Summers, Derek Williams

Musical Numbers
Act One
Jollification Dance
Bredda Buck
Kiss Me Quick
B.B. Esquire
What A Wedding
Cross My Heart
Cleaning Up
You're My Speed
Artists Song
I'll hold You Tight
Learning the Ska
Fate Has Taken A Hand
Worries
I'll Make a Perfect Prince
Preparing for the Prince

Act Two
We're Ready for The Prince
A Time for Love
Prince's Song
John Canoe Dance
A Family
A Time For Love (reprise)
What A Wedding (reprise)
Finale