1983/84 LTM NATIONAL PANTOMIME
GINNERAL B
The Story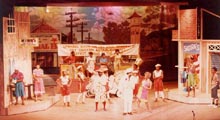 "Ginneral B", Fry-Chicken Empire owner, finds that his business suddenly suffered a blow. His plans for re-development have been thwarted and "all of a sudden everything change."

The plot thickens when Miss Mirrie and her daughter, Tina, former tenants of the Square are suddenly nowhere to be found. Overnight a great New Empire springs up in "Ginneral B's" territory. A mystery competitor is taking away his business and "Ginneral B" wants the problem solved.

As if all that was not bad enough, his one-son, Danny, is in love with Tina and wants to teach! No wonder there is confusion, desperation and consternation in "Ginneral B's" Empire.

But of course, in time, all is well. The lovers are reunited, negotiations between Ginneral B and Miss Mirrie commence and as the people would say, "What a Ting!"


Cast of Characters
Miss Mirrie: Leonie Forbes Harvey/ Patricia Amos
Ginneral B: Oliver Samuels/Volier Johnson
Tina: Janette Silvera/Susan Warmington
Danny: Richard Sutherland/David Ellis
Satira: Phyllis Barnes/Fleurette Harris Forrest
Puncie: Deon Silvera/Sheryn Hylton
Polka Dot Man: Franchot Henry/Lloyd Lovindeer

In Supporting Roles: Carolyn Allen, Letna Allen, Marcia Brown, Iris Hoo Fah, Joan Grant, Josaine Heron, Claudia Josephs, Marva Lee, Andrea Oliver, Anthea Seaman, Joyce Tomlinson, Clemence Villiers, Colin Anglin, Andrew Clarke, Robert Clarke, Roland Brammer, Kurt Hanson, Hugh Japhatt, Garfield Myrie, Derrick McCarthy, Delroy Rose, Recordo Redwood, Kevin Sinclair, Lenford Salmon


Musical Numbers
Act One
Overture
One Stop Driver
All Of A Sudden
Money In The System
Big Apple Bop
Please Understand
What A Ting
Chicken Fry
Can't Get Me Off
Chickens Three
Someone Special
Weh Dem Deh

Act Two
Searching
Destiny
Business Brisk
What A Wedding That Will Be
Hurry Driver
Duppy Conqueror
Pardon Our Progress
Let's Negotiate
Oh Soda-fountain
Today


Orchestra
Steve Golding - Leader/Guitar
Donovan Palmer - Piano
Calvin Cameron - Trombone
Glenroy Plummer - Drums
Lorris Lawrence - Percussion
Junior Anthony - Trumpet
Joe Ruglass - Bass
Grub Cooper - Arranger