1984/85 LTM NATIONAL PANTOMIME
SIPPLESILVER
The Story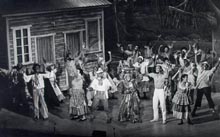 A travelling circus arrives in the town of Dukonoo led by Silver the Ring leader and backed up by a tom puss - the sinister Tooth. The circus folk entice the villagers with gambling, drink and other activities. Despite the warnings of Lady - the village mystic and Mikey the progressive young farmer, the villagers waste their money without a care.

Things become even more complicated when Tooth takes a liking to Sanna, Lady's daughter, and bewitches her. Silver who has also been under Tooth's control is horrified when he realises that Tooth's latest conquest is in fact his daughter whom he has not seen in twenty years.

Silver, asks Lady to help him free Sanna from Tooth's grasp, and Mikey - worried about his girlfriend joins in the fight as well. However, Tooth's power proves to be too strong for Lady and she has to call for help from other worldly spirits. Once again with Silver and Mikey's assistance and her "magic powder" Lady is able to free Sanna and chase Tooth out of town.
Cast of Characters
Silver............ Oliver Samuels/Volier Johnson
Lady............. Leonie Forbes-Harvey/Phyllis Barnes
Sanna........... Andrea Oliver/Evelyn Chronicle
Mikey.......... Tommy Ricketts/Winston Allen
Sam.............. Lenford Salmon/Andrew Clarke
Mass P......... Homer Heron/Owen Ellis
Melva........... Audrey Reid/Myrna Laughton
Precious....... Dahlia Morrison/Patricia Sinclair
Tooth........... Paul Anderson/Adrian Fletcher
Juggler......... Wayne Campbell
Tumbler........ Recordo Redwood
Trumpeter..... Delroy Rose
Troupe Member...... Clemence Villiers
Elvira............ Deon Silvera/Fleurette Harris-Forrest
Woman......... Ann-Marie Fuller/Hyacinth Brown
Youth........... Kevin Sinclair/Dwight Baker
Senior Taxman..... Zac Henry/Colin Anglin
Junior Taxman..... Andrew Clarke/Recordo Redwood

Villagers: Tulip Reid, Marcia Brown, Iris Hoo-Fah, Claudia Josephs, Audrey Reid, Zac Henry


Musical Numbers
Act One
See It Ya
We Want Remuneration
When Me Was Living Up A Dukonoo
Lady's Dance
Dukonoo Life
Lady's Warning Song
I Am Your Mother
Reap And Sow
Dance
Yu Gwine Regret Dat Day
The Action
Tax Collectors
The Action (reprise)

Act Two
Who Is To Blame?
Tooth's Lair Dance
Duppy Song
Small Up Yourself
Shoo Bap
Exorcism
The Night Is O'er


Orchestra
Steve Golding - Leader/Guitar
Donovan Palmer - Piano
Calvin Cameron - Trombone
Glenroy Plummer - Drums
Lorris Lawrence - Percussion
Junior Anthony - Trumpet
Joe Ruglass - Bass
Grub Cooper - Arranger