1961/62 LTM NATIONAL PANTOMIME
BANANA BOY
The Story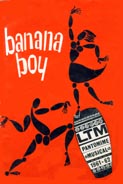 An acting troupe receives news that a great British Impresario John Linley, is available to conduct a film test of the group in Portland.
The dances are ready, the actors are ready and so are the songs - and shortly they are off to Portland. It is also a homecoming for Fred who grew up in Portland, but much to his grandmother's disappointment, he has left the banana fields of Portland to take up a clerk's work in Kingston all the while writing music and skits for the troupe.

The troupe which includes Celia, who delights in boasting about her travels overseas, the unhappily married Monique; Rosa who has returned from England lovesick and their biggest supporter Aunt Hannah. Rounding out the group are playboys Norman and Ben who compete for Celia's affection.

On their arrival in Portland much excitement happens, and after great confusion the troupe impresses John Linley and dreams become reality.



Cast of Characters
Fred: Keith Sasso
Bragga: Alston Blair
Mirrie: Joyce Lalor
Mortimer: Buddy Pouyatt
Man Son: Cardiff Williams
Celia: Carmen Manley
Angela: Alma Mock Yen
Aunt Mum: Louise Bennett
Mamsie: Myrtle Robinson
Norman: Keith Bradley
Cliff: David Lindo
Cathy: Mary Levy
Rastas: Delroy Mendes, Roy Mattos, Noel Dexter
Rasta Queen: Maude Fuller
Bentley: Ranny Williams
Grannie Rachel: Inez Hibbert
Rosa: Claire Spaulding
John Linley: Dennis Marshall/ David Brown

In supporting roles: Carmen Anderson, Joy Guntley, Barbara Kaufman, Barbara Knowles, Patricia Thomas, Frank Ashley, Desmond Cesar-Brown, Barry Moncrieffe, Ronald Simmonds, Mario Smith, Derek Williams, Daniel Daire

Dancers: Yvonne DaCosta, Barbara Grant, Thelma Manley, Gertrude Sherwood, Pansy Silvera, Audley Butler, Ken Mock Yen, Bertie Rose


Musical Numbers
Act One
Congratulations
Portland Rain
Evening Train
Pounds, Shillings & Pence
Oh Oh Delilah
Defederated Ladies
Gros Michel
Scuffling

Act Two
Grannie Rachel
I Chase a Rainbow
She Come from Port Au Prince
Gazing Over the Canepiece
Angela Brown
Naughty Little Flea
Banana Boy
Finale

Orchestra
Flo Wilson, Noel Peck, Pete Stewart - Violins
Herbert Nelson - Bass
Joseph Walters - Trumpet
Jackie Williams/ Joe Bennett - Trumpet
Lloyd Mason - Flute & Piccolo
Joe Williams - Alto Sax & Clarinet
Charles O'Brien - Tenor Sax & Clarinet
Karl McLeod - Drums
Mitlon Osbourne - Congos
Mapletoft Poulle - Piano & leader