1965/66 LTM NATIONAL PANTOMIME
MORGAN'S DREAM OF OLD PORT ROYAL
The Story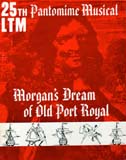 The story begins in the Port Royal Lodge, its members are jealous of the past glories of their ancient city and eager to do their part in rebuilding what remains of it. The songs they sing put the band's leader Alexander Morgan into a trance and imagining himself to be Henry Morgan, he sets out to recapture past glories.

He leads his followers with dash and daring, consorts with governors and kings, and brings home all the fabulous treasures that were there to be taken in those buccaneering days by the pirates whose boldness knew no bounds.

A turn in fortune occurs when Morgan is recalled and ordered to England and to the Tower of London, but his luck has not run out. He is pardoned and sent back to Jamaica where he is given the governorship of the island.


Cast of Characters
Henry Morgan: Ranny Williams
Mistress of the Tavern: Louise Bennett
Madame: Lois Kelly
Rosita: Norma Wood
Jack: Basil Cahusac
Dan Silver: Tony Henry
Governor Modyford: Peter Haley
Elizabeth: Anna Adamira
Elizabeth's companion: Inez Hibbert
Lynch's Attorney: Andrew Rankine
Beeston: Dwight Taaffe
Elletson: Munair Zacca
Jeremiah: Roy Mattos
Sir Henry Lynch: Michael Maberley
Jezebel: Yvonne Jones
Messenger: Arthur Brown
Chandler: Raymond Hill

Singers: Beulah Banbury, Barbara Beavers, Paula Brown, Hope Foreman, Barbara Kaufman, Mabel Miller, Diane Sett, Gertrude Sherwood, Megan Thomas, Eleanor Wint, Courtney Brammer, Cecil Cooper, Bill Dumont, Douglas Folkes, Noel Heron, Stanley Irons, Vernon Nash, Denzil Southwood-Smith, Fitz Weir
Dancers: Joye Abrahams, Micky McGowan, Carole McClaren, Carol Miller, Patsy Ricketts, Sonia Thompson, Frank Ashley, Herbert Coverley, Noel Hall, Thomas Pinnock

Musical Numbers
Act One:
Yo Ho Ho,
Bold Buccaneer,
The Ships are in Girls
Lawd dem tie up de Governor,
Yo Ho Ho (Reprise)
True Only To You,
Roaring and Rolling,
Fling Him Outta De Tavern,
Farewell,
You Came My Way,
On to Panama,
Pluck the fruit and Take the Pleasure,
Our City of Sin is a Sink,
Colon Man A Come,
Morgan, Morgan, Morgan.
All My Dreams,
Your Time Is Up,
Port Royals' in Distress,
Sail Morgan Sail

Act Two:
Sail Morgan Sail (Reprise)
Sign the Petition,
Treasure for Pleasure,
Oh What a Life,
We Don't Want to be Re-Auctioned,
No I Won't be fooled,
No One Can Now Prevent,
All My Dreams (Reprise)
Morgan, Morgan, Morgan (Reprise)
Sail Morgan Sail (Reprise)