Randolph Samuel Williams (Maas Ran) was born in Colon, Panama on October 26, 1912. He came to Jamaica at the age of six with his mother. He lived in Kingston for a while and the rest of his childhood was spent in Williamsfield, St. Catherine. He attended Tutorial College, Calabar High and Kingston Technical High.

Ranny Williams was a dramatist and a comedian. He first started his acting career as a child reciting poetry at church, Lodge halls and schoolrooms.He achieved professional status in 1930, when he was invited by the Rt. Excellent Marcus Mosiah Garvey to become a member of the vaudeville group at Edelweiss Park and to organize entertainment for the thousands of people who attended meetings there. Several productions at the Park have been listed as having been originated by Ranny Williams.

Maas Ran and Lee Gordon became a formidable duo known as "Amos and Andy", and together went on to appear in the second LTM Pantomime "Babes in the Wood". Ranny and Lee provided a great deal of comic relief in the topicalities or "knockabout" sections which facilitate scene changing in the pantomime. But Ranny Williams really came into his own when he began playing Brer Anancy which started when Louise Bennett and Noel Vaz created "Anancy and Busha Bluebeard". He performed in over 29 Pantomimes , wrote two (Jamaica Way and Quashie Lady) , adapted Robinson Crusoe and is listed as co-writer for Queenie's Daughter and Bredda Buck. His partnership with Louise Bennett was legendary.

Maas Ran was the host of the "Ranny Williams Show" on television which premiered in 1963. His films include "A High Wind in Jamaica," "Oh Dad, Poor Dad," "White Souls", "Jamaica No Problems", "Tropical Isles", "Zacc Experience" and "The Marijuana Affair." Along with Lee Gordon, he had a series of shows on ZQI, Jamaica's first radio station which began operating at the beginning of World War II. He shared the spotlight in the radio revue "Morgie and Putus" with Alma Hylton (Mock Yen). At the same time he had another radio show called "Hello, You Out There", and he developed the "Lou and Ranny Show" for the opening of JBC Radio in 1959.

His outstanding achievement in the field of entertainment and drama earned for his several awards: The Jamaica Certificate and Badge of Honour in the Queen's, New Year honours list (1968). The Institute of Jamaica Silver Musgrave Medal (1968), Commander of the Order of Distinction (C.D.) for outstanding Services in the field of Entertainment (1976) and the Centenary Medal (1979). The Ranny Williams Entertainment Centre stands as a monument to his work.

Although Maas Ran accomplished much in his lifetime, his greatest accomplishment was of the love for the people of Jamaica whom he served outside of entertainment. He was a social worker, JAMAL worker, founder of the Ranny Williams Youth Club and a regular on "The Nugget for the Needy Show".

Maas Ran died on August 11, 1980, his last pantomime was The Hon. All Purpus and the Dancing Princess. He has left behind a rich legacy to the theatre world.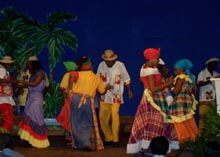 On the 25th Anniversary of his passing the LTM held a Tribute to his memory. The life and work of Ranny Williams was recalled by Mr. Wycliffe Bennett in a presentation: "A man for all seasons." Reminiscences also came from Roman Catholic priest Msgr. Kenneth Mock Yen, who, as a youngster, learnt his own lessons of Jamaican culture from Mass Ran; musicologist Marjorie Whylie who said that she first met Ranny when she was five and later performed with him in Pantomime; radio personality Alma Mock Yen who teamed with him in the ground-breaking radio serial "Morgie and Putus" and Dr. Keith Amiel who also trod the Ward Theatre stage with Ranny. Lois Kelly-Miller read a message from "Miss Lou." A selection of songs was performed by members of the Pantomime Company. Video and audio clips of Ranny engaged in story-telling and interviews were also presented.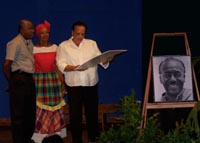 A souvenir poster commemorating the event was presented by Pantomime Company senior member Faith Bucknor to Mr. Norman Williams, Ranny's son, who, along with other members of the Williams family, attended.
On the occasion of his 100th birthday, a commemorative poster exhibition and Tribute concert was held on the grounds of the Little Theatre. Friends and family once again raised a toast to the memory of Ranny Williams and his cotnribution to Jamaican theatre.
Click to download the exhbition posters.