1977/78 LTM NATIONAL PANTOMIME
12 MILLION DOLLAR MAN
The Story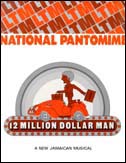 In the office of Kover All Kinds Assurance Corporation, Billy Goldtouch is the salesman of the year. With his expertise there is no area of the island that isn't covered by some sort of policy issued by KAKA. Leda Fellowes, the President, proudly announces that Billy has broken the 12 million dollar mark and there will be a big party to celebrate his success. The other agents of KAKA, Tryall, Forcep, Carol, Mrs. Punario, Mr. Snowdin, Ms Chestnuff are thrilled at the news. However Jennifer, Billy's girlfriend, is worried that Billy will burn himself out if he isn't careful.

The following evening at the party, Billy announces he will sell another million dollars in policies over the long holiday weekend, and he dashes off to attempt his new goal. Billy drives past a Kumina yard, he hears the drums beating, there is a flash and suddenly is transported to another space and time.

In the land of Noh Look Back, a battered and disheveled Billy is nursed back to health. Soon he is able to familiarise himself with his new surroundings. The village is run by the wise old woman Tama Kofi, she organises the villagers to pick the corn, catch coneys and plant yam. The village's history is kept by Ibobo who has just learned to write it down. Nyambura, Tama Kofi's grand daughter is destined to be the next leader of Noh Look Back. The village has been run by women from the days of Nanny. And although Tama Kofi is doing a great job, Baba Cunny feels that he would be a better leader.

Billy sees an opportunity to get out of Noh Look Back and get rich while at it too. He convinces Baba Cunny that he can help him plan a revolt and wrest power from Tama Kofi, but first he must get two bags of gold, taken from the shrine to Ni (Nanny). The other men join in Billy's plan, and they confront Tama Kofi. The elders are called in to decide who the successor is, the vote is not accepted by the youth and it is decided that there will be a dance off to crown the leader. In a strange turn of events, Billy is made to dance for Baba Cunny and Rival, a supporter of Tama Kofi, is his opponent. Although Billy wins, he proclaims that Tama Kofi should remain the leader as she has the best interest of the village at heart. Baba Cunny feeling betrayed - tries to kill Billy and in the confusion, Billy is transported back to his regular time. He has learnt that there are more important things than working at KAKA and he realises that love is the best Assurance of all.

Cast of Characters
Billy Goldtouch: Val Morris/ John Francis
Leda Fellows/Tama Kofi: Dorothy Cunningham/ Eleanor Wint
Jennifer/Nyambura: Martha Thompson/ Lois Heron-Hue
Mr. Snowdin/Baba Cunny: Ranny Williams
Mr. Smith/Ibobo: Anthony Carrol/
Anthony Kelly
Tryall/Rival: Vernon Derby/ Allen Jones
Carol/Zegi: Angela Norman/ Denise Oates
Forcep/Diribi: Errol Palmer/ Stan Irons
Ms Chesnuff: Gloria Jefferson/ Judith Thompson
Mrs. Punario: Inez Hibbert/ Mary McLean
Office Helper: Lola Hamilton
Duppy Mother: Inez Hibbert/ Lola Hamilton
Duppy Father: Ted Dwyer
Big Berta: Ted Dwyer
Kumina Queen: Mary McLean/ Denise Oates
Elder: Stan Irons

In supporting roles: Edward Gayle, Castrol Dunkley, Michael Binns, Fitzroy Hunt, Calvin McDonald, Carole Orane, Carol Murdock, Pamela Mason, George McGann, Sandra Minott, Audley Nain, Monica Lee, Novlette Irons, Maurice Powell, Leghorn Coghile, Gary Harvey, Paul Douglas

Musical Numbers
Act One
Gang from KAKA
The Best of Them
Slow Down Billy
12 Milion Dollar Man
I feel The Power
Helito!
Morning Song
Sunrise Insurance
Harvest Song
'Im Nuh Fi Trus'
Tama Kofi Gwine Pay!

Act Two
Tama Kofi Tan Trang
Nuttin Sweet Lacka Ooman
Gi Wi Baba
It Nah Go So!
Billy Come Fin' Me
Willin'
Rain Chant
Loving Time
Melembe
Finale


Orchestra
Lloyd Mason – Bass/Leader
Michael Mcfarlane/ Ian Johnson Keyboards
Steve Golding - Guitar
Terrance Lawrence - Percussions
Junior Wedderburn - Congos
Alphonso "Jim" Clarke - Flute & Tenor Sax
Leighton Johnson - Trumpet