1971/72 LTM NATIONAL PANTOMIME
MUSIC BOY
The Story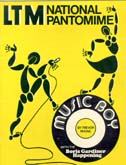 Everybody dreams of being a star - and Junior is no different, he knows if he is given a chance he will become a great reggae singer. His mother Alice believes this to be true and so when an opportunity arises to record a single with Count Skanker, they jump at the chance. Alice, who wants only the best for her son, swallows her pride and takes a loan from Shifty Hassan.

Junior and his band mates which includes his girl Betty, arrive at Count Skanker's studio and record their hit. Everyone in the neighbourhood waits anxiously for the song to be played on the radio. None more anxious than Miss Alice who worries that she may not be able to pay back Hassan if the record doesn't do well. It seems like forever but finally the song makes its way to the airwaves and becomes a hit.

Expectations are high, Junior and Miss Alice wait for the money to start rolling in. But Count Skanker is not to be trusted. The neighbourhood policeman, Stripeless, who has had interest in Miss Alice for many years, keeps his eye on Count Skanker. When the money is not forthcoming, Junior goes to see Skanker and demands his pay. Skanker accuses him of theft and a reluctant Stripeless has to throw Junior in jail.

Stripeless and Betty, learn of Skanker's other plans to conduct an export mission. They track him down in the hills of Blue Mountain and in a daring attempt they corner him and extract a confession which will free Junior. Unfortunately they are unable to hold onto him and he escapes. With Junior out of jail and Miss Alice finally forgiving Stripeless for past misdeeds, it seems that things are looking up - but the best news of all comes from an overseas promoter who signs Junior to a record deal which will finally make him a star.


Cast of Characters
Miss Mamma: Louise Bennett
P.C. Stripeless: Ranny Williams
Madame X: Lois Kelly-Barrow
Mr. Shifty: Bobby Ghisays
Count Skanker: Keith Amiel
Junior: Raymond Hill
Betty: Faith D'Aguilar
Carol: Chris Leon
Miss Beatrice: Inez Hibbert
Charlie: Ed (Bim) Lewis
Guards: Fitz Weir, Lloyd Brown
Rasta: Ted Dwyer
Bonny & Clyde: Garth Bright
Legs: Jackie Guy
Moondrop: Oliver Samuels
Mo Town: Ted Dwyer
Market Vendors: Barbara McCalla, Fae Ellington
Market Ladies: Lois Heron, Lola Hamilton
Sailor: Michael Everett
Boys: Turnell McCormack, Norman Martin, Michael Everett, Errol Smith

Dancers & Singers: Pat Robinson, Ruth HoShing, Arthur McIntosh, Fitzroy Hunte, Cathi March, Vincent Douglas, Jackie Guy.

Musical Numbers
Act One:
Opening
Here in di Market
Stripeless' Song
Love is the Thing
Rising
Shifty-Shifty
Stay Outta Mi Life
Bonny & Clyde
There was a Man
Love Is the Thing (Reprise)
Waiting
Congratulations
Check This Chick
I'm Alone
Mark n' Move
Fight Back

Act Two:
Babylon
Alibi
Happened
Stand By You
Contentment
Club Welcome
Business is Bright
My Reputation
Policeman's Song
Love is the Thing
Finale