1972/73 LTM NATIONAL PANTOMIME
HAIL COLUMBUS
The Story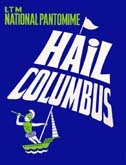 This version of Columbus and his voyage of discovery to Jamaica is of a time that never was. And why not? Who really knows exactly what happened when the great explorer found his way to our shores?
Queen Isabella of Spain, (who seems to have discovered Women's Lib before it was invented, judging by the way she treats King Ferdinand) decides that she is bored with the tasteless Palace food. She wants curry, Bombay mangoes, silks and some gold as well. So she sends Columbus off to find them in the East.
Ferdinand is jealous of the attention the Queen pays to Columbus so he plants a villain aboard the expedition, none other than Don Diego Dutty Water, a rascally nobleman. His mission - confuse up Columbus, get him lost and so discredit him in the eyes of the Queen.
Columbus sets sail, with his ADC, a young nobleman, Roderigo, at his side. The expedition gets lost and there's near mutiny aboard, but then land is sighted. Columbus leads his men ashore, and soon comes face to face with the Arawaks, led by their chief Mama Cacique.
Mama Cacique is having a difficult time with her people and is not being helped any by the high priestess of the Arawaks, Cerusee Shaman, who spends all her time trying to get word from Savacou, the great Arawak god and gets nowhere. Mama Cacique is a little impatient with Savacou too, for he isn't quick with answers to her problems. Example - what to do about the Princess Poinciana who is defying tradition and insisting that she must choose her own husband instead of letting her mother make the choice, as custom demands. To add to Mama Cacique's problems, there is a drought and no water for the corn which is the "gold of life" for the Arawaks. Furthermore there is war in the air. For some time, the Arawaks have been depending on Ciboney, the Cuban Cacique, to protect Jamaica's shores from the man eating Caribs. Ciboney decides he wants payment and he'll settle for nothing less than the Princess Poinciana. Repelled at the thought of her nubile daughter being given to the allegedly lecherous old Ciboney, Mama Cacique sends word that she is too sick and half starved to be anybody's wife. While this message is being sent to Ciboney, the Princess is hidden in Fern Gully. But Bitter Cassava, a real Arawak bad-man, finds out, and he sends word to Ciboney.
Columbus meanwhile has been hunting for gold, but is finding none. Mama Cacique appeals to him for help with the drought and he abandons the gold search to irrigate the fields instead. Inevitably Roderigo and the Princess meet and fall in love. The Caribs decide to invade Jamaica.
With all this going on Queen Isabella, unknown to Columbus (and to history) is enroute to Jamaica. She lands, so do the Caribs and in the words of Mama Cacique, "what a autoclaps". But good triumphs. Better must come. Villains are routed and put to flight. Young lovers are united and ere long the people Hail Columbus.
Cast of Characters
The Discoverers
Isabella, The Queen: Chris Leon/ Adelita Colfelt
Ferdinand the King: Larry Shadeed/ Ted Dwyer
Columbus: Ranny Williams
Don Diego Dutty Water: Keith Noel/ Raymond Hill
Roderigo: Robert Dunkley/ Paul Keens-Douglas

The Discovered
Mama Cacique: Pauline Stone/ Maisie Prince
Cerusee Shaman: Totlyn Jackson/ Carol Lawes
Liguanea: Fitz Weir/ Jackie Guy
Bitter Cassava: Delroy Roache/ Oliver Samuels
Periwinkle: Quindell Ferguson/ Inez Hibbert
Poinciana: Lois Falconer/ Sheila Rickards

In supporting roles: Colyn Thompson, Marguerite Newland, Arthur McIntosh, Ascar Stewart, Stanley Dawkins, Norman Martin, Martha Thompson, Winsome Samms, Lola Hamilton, Pat Robinson, Valerie Williams, Ruth HoShing, Fae Ellington, Lois Heron, Sandra Redwood, Trischia Carr.

Dancers: Patsy Ricketts, Mary Philipson, Alison Symes, Barbara Kaufman, Marjorie Salmon, Paulette Cousins, Margaret Orane, Linda Robinson, Dennis Richards, Dennis Lindo, Jackie Guy, Vincent Douglas, Herbert Morrison, William Duffus.

Musical Numbers
Act One
Isabella
I want Diamonds
Confuse Up Columbus
Go Forth, Columbus
Sailor's Lament
The Island
Forward Up Yourself
Amen
Rap
Not For Us The Guns
A Woman Without A Man
A Sailor's Life
Corn Gold

Act Two
Work Song - The Aqueduct
Reach For The Sky
Stand Still and Behave
I Love Roderigo
The Caribs
Hail Columbus