1980/81 LTM NATIONAL PANTOMIME
MANSONG
The Story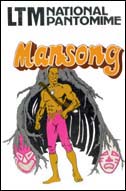 Patches of authentic history coloured by legends which have sprung up over the years tells us that Jack Mansong was a Coromantee slave on a Jamaican plantation who escaped and gained for himself a reputation as a rebel against the slave owners. Legend tells us, however, that Jack would never kill a woman. In one of his fights, Jack lost two fingers and thereafter became known as 'l'hree Finger Jack'. With the passing of time, Jack has emerged as one of the heroes of old Jamaica.

The 1980 Pantomime, Mansong, creates a fantasy around the story of Three Finger Jack. Another hero of the tale is Dada, an old slave skilled in the science of obeah who is like a father to Teena, a young slave girl who, it appears, is torn between her love for the slave Quashee and Three Finger Jack. The story begins with the wedding of Miss Rosa Chapman, the daughter of the estate owner, to a young British soldier, Captain Edward Whitehorn. Everyone, including the slaves, is celebrating the marriage and Dada, after a couple swigs of rum, launches out into the tale of Jack Mansong - a tale which he advises those of his listeners who are literate, to write down for posterity.

Dada's story starts with the arrival of Jack on the plantation. Teena gives Dada the news and they decide to keep to themselves the secret that both she and Jack are originally from the same African tribe. (Slaves from the same tribe were not allowed to live on the same estate, as the masters feared that this might lead to rebellions).

To tell more of the plot would rob the story of its surprises, part of the fun of Pantomime. Suffice it to say that good triumphs, true love conquers, and the villain gets his just desserts, in true Pantomime tradition.


Cast of Characters
Dada: Charles Hyatt
Teena: Faith Nelson
Quashee: Bert Johnson/Raymond Thompson
Tuckey: Eric Blair
Jack: Paul Campbell
Rosa: Hope Blake/Totlyn Oliver
Mrs. Chapman: Ann Marie Fuller
Gov,'s Wife/Fibba: Maureen Beckford
Housekeeper: Sonya Francis
Lady Bosum: Patricia Amos
Orphelia Bosum: Andrea McLaren
Silly Young Miss: Julianna Blackwood
Housekeeper: Jacqueline Higgins
Tipsy Man's Wife: Audrey Miller
Parson's Wife: Totlyn Oliver/Hope Blake
Slave Girl: Virginia Waite
Captain: Alwyn Scott / John Francis
Sam Power: Sam Carty
Governor: Rowan Byfield/Tommy Rickets
Custos: Franchot Henry
Parson : Clive Johnson
Tipsy Man/Overseer: Trevor Rowe
Richard (Custos' Son): Raymond Thompson /
Clive Johnson
Redcoats: Earl Vassell, Patrick Johnson, Eric Parkes, Tommy Ricketts

Musical Numbers
Act One
Jonkunnu
Everybody Have a Song
Teena's Melody
War Oh!
A Gwine to be a Rebel
Jack Nah Jester
Waltz Time
Scandal
Mi is a Big Man
Never Felt Like This Before
The Ring is Round
We Nah Form Fool
Jack Nah Jester (reprise)

Act Two
Worksong
When yu Back is to the Wall
Up in the Mountain
Spirit Dance
Hear my Song
The Ring is Round (reprise)
Up in the Mountain (reprise)
Wid dis ya Loot
Look to the Mountain
Hear my Song (reprise)
Teena's Melody (reprise)
Freedom
Look to the Mountain (reprise)

Orchestra
Lloyd Mason - Flute
Vincent Hawthorn - Saxophone
Michael Dyke - Rhythm Guitar
Glen Carty - Bass Guitar
Godfrey Taylor/ Noel Dexter - Piano
Drums (Traps) - Glenroy Plummer
Congo Drums - Billy Lawrence