1974/75 LTM NATIONAL PANTOMIME
DICKANCE FOR FIPPANCE
The Story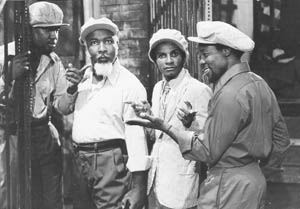 (Dickance for Fippance mixes Jamaican history with a little fantasy.)
In 1938, there were major strikes in Kingston. The strikers were supported by a young politician - Alexander Bustamante who was thrown in gaol by the Governor of the day. His release was eventually secured by his cousin Norman Manley, a respected lawyer. Both men subsequently rose to become the former most
In 1938 at the Kingston waterfront, the work is hard and the wages are low - nine pence per hour. Beezer, the gang boss, exhorts the men to work even through their lunch hour. The men are in an angry mood and refuse since they are not going to be paid double time. Against this background we are introduced to Mackie, the peddler who trusts the men and women a variety of goods until pay day. Also on the waterfront is Benjy, a young man for whom the waterfront tart, Dassa, has a child but who has his mind set on escape to the USA. Also present is Miss Nicey, the genial food vendor with her food cart whom everyone likes but whom few will pay when Friday comes. Benjy's dreams seem to be coming true as Granny brings the news that her sister has agreed that Benjy can go to her. But Granny will have to borrow the money for the fare from Mackie.
Back at Miss Nicey's yard, her cousin Rufus arrives from the country, and has also brought Nicey's niece Puncy to stay for awhile. Benjy comes to the yard looking for Miss Nicey and finds Puncy there and they soon become friends.
At the waterfront on pay day - the workers are dissatisfied with their wages as it can hardly cover their debts to Mackie and Miss Nicey. Nicey tells the men that they must stand up for themselves and ask for a raise of three pence per hour (a fip) to make the rate a shilling an hour. Most of the workers are hesitant but after some coaxing they choose Benjy and Saucer to become the delegates.
The following day at the wharf gates Benjy is left to face the boss alone, but he bravely goes forward and asks the Boss for the raise. As a result of his temerity, the following day, Benjy is given no work. Nicey demands that they fight back - they must strike. Benjy takes up his role as the men's leader and to his Granny's dismay, he no longer wants to go to the USA. Granny is sure this is only because of his growing fondness for Puncy - but Benjy reveals that although he loves Puncy - he won't walk away and leave the strike.
The strike takes hold of Kingston as all the towns people join in and support the workers. Benjy is arrested in the uproar and Miss Nicey has to convince Mackie to bail Benjy. Mackie forces Nicey to admit that she does in fact love him, and with this news does as she asks.
At the negotiations, a compromise is reached and the workers will receive an increase of two pence per hour (a fippance). With the future looking bright, romance now fills the air, Benjy and Puncy are together again and Mackie engages Nicey.
Cast of Characters
Mackie: Ranny Williams/ Oliver Samuels
Nicey: Louise Bennett/ Marjorie Whylie
Agatha Chambers/Gatta: Lois Kelly-Barrow/ Inez Hibbert
Claris Wilson: Cyrene Tomlinson/ Natalie Thompson
Rufus Headcock : Bobby Lee/ Jackie Guy
Puncy: Sabrina Williams/ Dawn Forrester
Dassa: Chris Leon/ Barbara McCalla
Benjamin Dacres: John Jones/ Robert Dunkley
Ethesba Dacres/Granny: Inez Hibbert/ Joyce Lalor

The Chorus: Teddy Price, Delroy Roache, Stan Irons, John Francis, Fitz Weir, Norman Martin, Arthur McIntosh, Eric Tello, Baldwin Hunter, William Duffus, Stanley Dawkins, Dorothy Cunningham, Beverly Dinham, Paula Johnson, Lola Hamilton, Viviene Dewdney