1988/89 LTM NATIONAL PANTOMIME
BRUCKINS
The Story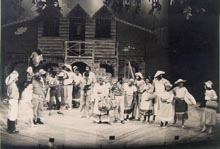 The action takes place on Squire Hardie's Estate, and focuses on the lives of workers in the days leading up to full freedom.
Miss Elfreda, loved and respected by all, has all her hopes set on the future of her son Rufus, as her own attempts to buy an early freedom for herself have been thwarted. She uses her "powers" to speed up the process.

Mr. Bucky - Butler in the Great House, feels he must secure the future of his daughter - Precious Grace, as he himself is already old. Buckie poses a riddle, and the prize is Precious's hand in marriage.

The relationship between Rufus and Precious Grace is slowed down by enmity between Elfreda and Buckie, the basis of which is not known to the workers.

The Squire and his wife Amanda, naturally are not anxious to have full freedom, and hire a consultant to find the best way of keeping the workers on the estate.

Throughout all of this, Anancy, "the present and the past" manipulates, schemes and uses all his powers to have things turn out in the workers' favour. After a slight backfiring, he succeeds.

The workers get their freedom, the lovers "get through", Buckie and Elfreda are reconciled and the Squire and Amanda accept what they can't change —Freedom.


Cast of Characters
Squire: Tony Hendriks /Wayne McLeod
Amanda: Brian Heap/ Luke Williams
Figures: Christopher Bennett/ David Ellis
Anancy: Owen "Blacka" Ellis/ Paulette Beckford
Buckie: Winston "Bello" Bell/ Lenford Salmon
Elfreda: Dorothy Cunningham/ Marcia Brown
Precious-Grace: Janice Ward
Rufus: Desmond Moulton
Man-Man: Michael Nicholson/
Recordo Redwood
Headman: Kevin Sinclair
Queen: Faith Bucknor/ Elizabeth Brown

Workers: Marcia Fraser, Jackie Higgins, Yvonne Ashley, Terry-Ann Clarkson, Sharon Forte, Donna Lebert, Ivy McPherson, Melinda Minott, Patrick Heron, Halcyone Samms, Sonia Samuels, Hugh Japhatt.


Musical Numbers
Act One
Full Free A Come
I Want To Be Somebody
Trickster ing
My Darling Wife
What The Consultant Can Do
The Dream
Hammering
Riddle Me Dis
De Gal For Me
Queen Coming Down

Act Two
Long Time
Come Share My Space
Good Luck
Reprise - Come Share My Space
Full Free Come
Finale

ORCHESTRA
Kathy Barrett - Leader - Piano
Everol Wray - Trumpet
Samuel Grant - Trumpet
Maurice Gray - Tenor saxophone
Raymond Allen - Clarinet
Richard Williams - Guitar
Robert Thomas - Bass
Durvan Williams - Percussion