1997/98 LTM NATIONAL PANTOMIME
BAGGARAGGS
The Story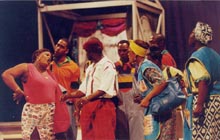 At the centre of our story is Citronella (any resemblance to one Cinderella is a sheer coincidence). She works in a garment factory run by her stepmother (wicked of course) who rejoices in the name of Bitter Jessie and who has two daughters, aptly titled Bleachie and Tallair. They're very stoosh (extra you might say). The factory is supervised by Red Eye (whose name tells you something of his character doesn't it?). And there are the other workers: the substantial Bevally, football loving Selvin, Miss T, Miss Gatta, Muscles - the elusive baby father and Latisha whose life revolves around a nightly dose of the popular serial "Nights of Our Lives". The workers work and Bitter Jessie is bitter. Red Eye casts his gravalicious eye everywhere.

Then along comes the Prince, whose dear departed Dad declares that Prince must be married by his 25th birthday and also sets down criteria for the future daughter-in-law. Spurred on by his fun-loving brothers, Count Bass (the Bashment King) and Earl Treble (the Monarch of Soca), Prince tries to find his bride.

He sponsors a series of crucial bashments. Soon enough, Prince sees a girl who he wants to have as his wife, but she doesn't stick around to find out. He tries again… she is chased off by - guess who? The third time, with the connivance of Baggaraggs, an unusual spirit presence which resides in the factory, Citronella is helped to "get her man", with some assistance from Miss T, an older factory worker who has been chosen by the Baggaraggs to carry out their plan. Much credit must go also to a strange and wonderful invention which warns young girls to "wear yuh size".

Prince finds his bride, various others are teamed up and we proceed merrily to the next Bashment. All's well that ends well... of course.


Cast of Characters
Bitter Jessie: Doreen King
Red Eye: Melward Morris
Prince: Kevin Roach
Citronella: Trecia Guy
Earl Treble: Recordo Redwood
Count Bass: Livingston White
Bleachie: Delrose Burke
Tallair: Jackie Higgins
Miss T: Faith Bucknor
Bagga: Ericka Wilson
Raggs: Hortense Smikle
Miss Gatta: Barbara Johnson
Bevally: Nadean Rawlins
Selvin: Michael Dawkins
Muscles: Jerry Eastwood
Latisha: Pauline Woodburn
Workers: George Howard, Audley Green, Halcyone Samms, Laura White


Musical Numbers
Act 1
Overture
Thread Oh
Baggaraggs
Brothers Together
We Want we Pay
Everybody Have A Price*
Wonder If
What is Dis!


Act 2
Weekend
Yuh haffe Fit
Thread Oh (reprise)
De Girls Dem a Moggle
Wear yuh Size (recording courtesy of Lt. Stitchie)
Together
Mix up Blend Up
Finale