1986/87 LTM NATIONAL PANTOMIME
RIVER MUMMA AND THE GOLDEN TABLE
The Story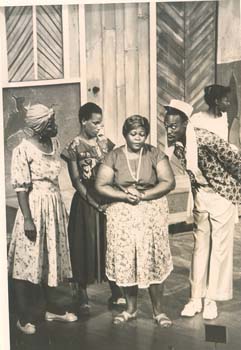 In the village of Ribber Bank, where Miss Hilda presides over everything, and the people seem content with the simple life, enter F. X. Sweet Mouth. He has a plan to develop the village, for tourism. Fact is, he's really in search of the Golden Table, which legend says, lies at the bottom of the river beneath the Cotton Tree

The promise of "freeniss" soon turns the villagers' heads and they begin to ignore Miss Hilda's message of hard work and honesty. Chief among those lured by F.X. Sweet Mouth is Miss Hilda's son, Lenny, who has dropped out of university because of "the cess". He joins F.X.'s development company and soon finds himself digging for the Golden Table despite his mother's warnings and the history about the River Mumma who guards it.

Sonia Martin, a young school teacher also warns Lenny against the path he is taking— but he has his own way. The table is raised— River Mumma appears and in the train of events, young Babsie almost loses her life. River Mumma gives the village a second chance— and they give thanks as they promise to make a new start.
Cast of Characters
Hilda: Dorothy Cunningham/Ivy Mcpherson
FX Sweet Mouth: Volier Johnson / Glen Campbell
Lenny: David Ellis /Recordo Redwood
Sonia: Tulip Reid/ Sharon Lawrence
Chi Chi: Marcia Brown/Erica Wilson
Clarice: Faith Bucknor / Elizabeth Brown
Precious: Jacqueline Higgins/ Claudia Josephs
Babsie: Halcyone Samms/ Carolyn Allen,
Bigger: Michael Nicholson /Hugh Japhett
D. C. Panhead: Clive Duncan / Silton Townsend
Boysie: Kevin Sinclair /Wayne Mcleod
Sister B: Iris Hoo-Fah-Salmon/ Erica Brown

Villagers: Yvonne Ashley, Lenford Salmon, Marcia Fraser, Colin Anglin, Donna Lebert, Delroy Rose


Musical Numbers
Act One
Wash Day
We Wan' Fe Know
Country Boy
Hot and Dusty City Streets
We Looking for Clues
One Thing Lead to another
Wi Wan' fi Know (reprise)
Everybody have a price
Buy We Out

Act Two
Freeness
What Sweet Nanny Goat
Freeness (reprise)
Working for Gold
Fight the Fight
Give Thanks

THE ORCHESTRA
Grub Cooper - Arranger
Donovan Palmer/
Althea Cooper - Piano
Dave Wedderburn - Guitar
Glenroy Plummer - Drums
Bobby Josephs - Bass
Noel Browne - Synthesizer