2007/08 LTM NATIONAL PANTOMIME
NUFF AN' PLENTY
The Story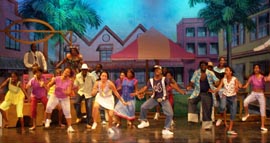 "WELCOME TO the place called Nuff and Plenty, every ting you want deh yah plenty-plenty!" The Nuff and Plenty community is having their annual thanksgiving celebrations, led by Miss Gertie who has tried to give her people all they need. But there are always those who want more – Mr. Gravalicious Brown, the resident entrepreneur and his wife Mrs. Mattitilda Brown are sure that they can provide new opportunities to the villagers. When discord arises over the results of the Miss Nuff and Plenty Beauty Contest, Miss Gertie's supporters look to see what Gravalicious Brown can offer. With him, they can get the chance to go to Foreign… where surely there is nuff more and plenty more to be had.
Even the headmaster of the Nuff and Plenty Basic Elementary Junior High School, Principaul is tempted, much to the dismay of his senior teacher Miss Match. Watching over the situation, Sister Birdie, the warner woman gives notice to Miss Gertie that change is coming and she had better prepare. As Gravalicious' schemes get more elaborate and complicated – Teneisha and Myute, two school children bewildered by the adults actions sum it up in the timeless words – "Whatta pem-peh-lem!"
In the end, Gravalicious plans do not materialize in the way he thought, it is left to Miss Gertie to remind the community that there is always more to life than meets the eye.
Cast of Characters
Miss Gertie - Doreen King/ Jaqui Higgins
Gravalicious - George Howard/ Carlton Butler
Mattitilda - Pauline Woodbourn/ Jaqui Higgins
Ivan - Cadine Hall/ Ray Jarrett
Birdie - Elizabeth James/ Sharon Edwards
Mummee - Sharon Edwards/ Camille Wilson
Plumpie - Leslie-Ann Bernard/ Tamara Campbell
Miss Match - Faith Bucknor/ Sharon Edwards
Principaul - Kevin Halstead/ Robert Gordon
Teneisha - Kishawna Gordon/ Cheleta Buddo
Myute - Ronlad Millwood/ Damion Mitchell
Jabez - Carlton Butler/ George Howard
Tony - Ray Jarrett/ Kevin Halstead
Lickle Joe - Roger Thomas/ Damion Mitchell
Beyonkay - Toni-Ann Fraser/ Tamara Campbell
Shaniqua - Marvett Murphy-Davis/ Stacy-Ann Hyde


Musical Numbers
Act 1
Welcome to Nuff and Plenty
She a de Ooman
Bring Out de Beauty
Scoobay
We a Beauty Too
Gie we More
Not Ungrateful
Whatta Pem-peh-lem

Act 11
Embassy
We Pledge
We a Go Fly Mattitilda
Ready fe Go
Building a Plane
Nuh More Pem-peh-lem
Finale

Orchestra
Calvin "Bubbles" Cameron - Leader/Trombone
Resna Brown - Keyboards
Simone Fletcher - Piano
Kismet Cooper- Piano
Calvin Mitchell - Percussion
Oneil Clayton- Percussion
David Sanderson - Guitar
Trevor Thompson- Bass