1969/70 LTM NATIONAL PANTOMIME
MOONSHINE ANANCY
The Story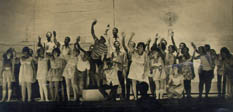 The prizes this year for our National Lottery are seats on Jamaica's third spaceship, "Maccafat Three", to the Moon.

Five have won places - Jan and Robert, two young people trying to bridge the Generation Gap and solve their own personal, social difficulties; Miss Tetess, a lady who lived and studied in Old Madrid and now heads the Mission to the Moon in search of little green men; Miss Corpie, a policewoman who has been working for ther first stripe for the last ten years and hopes to achieve this with a successful Moon Mission; Bredda Soul (alias Anancy) who is the official pothone "filler-upper" and having heard about the craters on the Moon, is only too keen to get the knack of lunar crater mechanics.

As it turns out there are many surprises in store for all on the Moon, and even bigger ones on the return to Jamaica, and it all adds up to "Moonshine Anancy"


Cast of Characters
Miss Corpie: Louise Bennett
Bredda Soul: Ranny Williams
Miss Tetess: Lois Kelly-Barrow
Jan Merchant: Faith D'Aguilar
Robert: Harold Brady
Moon Leader: Eric Coverley
Dignitary: Fitz Weir
Foreman: Stanley Irons
Warner: Inez Hibbert
Reggae: Weston Haughton
Suzy: Cleonie White
Computer: Ernest Cromwell

Undertudies: Pauline Stone, Karol Thwaites, Ted Dwyer, Janet Barley, Arthur Brown, Aurora Gordon

Dancers: Valerie Ewing-Chow, Theresa Hollar, Barbara Kaufman, Marjory Salmon, Moira Small, Allison Symesl Pansy Wright, Vincent Douglas, William Duffus, Claude harvey, Donald Haughton, Junior McGlashan, Herbert Morrison, Dennie Richards.

Singers: Colin Anglin, Yvonne Craig, Connie Foster, Ruth Ho-Shing, Fitzroy Hunte, Paula Johnson, Phillip Mendez, Tony Patel, Eric Tallo

Musical Numbers
Act One:
Overture
Poopoo Strut
Who Fe Go?
Me Name Anancy
I'd Like To Know
Generation Gap
I am a Cop
Me Name Anancy (Reprise)
Lottery Draw
Why Should It Be?
Shortage, Shortage
Wha Fe Tek
Fly Good, My Friends

Act Two
Lunar Rock Session
Zing-Zing
Why Is He So?
Love One Another
How Old Do You Think I Am?
I Wonder What
Astronauts Come Back
Catch a Moonbeam
Lottery Waltz
Moonshine Anancy