Hon. Louise Bennett-Coverley, OJ, MBE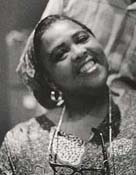 Born September 7, 1919 in Kingston, Louise attended Ebenezer and Calabar Primary Schools, St. Simon's College, Excelsior High School and Friends College. In the 1940s she went to England and trained at the Royal Academy of Dramatic Arts on a British Council Scholarship.

She first appeared in a pantomime in 1943/44
"Soliday and the Wicked Bird"
in the chorus role - Big Sambo Gal. As the decade came to a close, joined by Ranny Williams, she became an integral part of the process to "Jamaicanize" the Pantomime. She drew upon her wealth of knowledge of folk songs and tales and wrote
"Anancy & Pandora"
in 1949. Perhaps one of her most lasting efforts was the song "Evening Time" - a song from the 1949/50 Pantomime
"Bluebeard and Brer Anancy"
which has become a Jamaican classic. She co-wrote
"Queenie's Daughter"
which proved so popular, it was revived twice.
Her vast folk knowledge led to the publishing of several collections of poems, short stories and songs and was recognized by the University of the West Indies with an Honorary D.Litt in 1983. She was also awarded the Institute of Jamaica's Musgrave Gold Medal (1979).
She was a major proponent of the use of Jamaican language and lectured and performed in the United States, United Kingdom, Canada. She was honoured with the instituion of the Louise Bennett Exchange Fellowship for post-graduate research in Jamaican/West Indian folk language culture at UWI and University of Toronto. Miss Lou has authored several books of poetry and short stories including
Jamaica Labrish, Anancy and Miss Lou and Aunty Roachy Seh.
Her relationship on stage as part of the duo Miss Lou and Mass Ran (Ranny Williams) became legendary, but she also served as director (joined by Rex Nettleford) for 1961/62
"Carib Gold"
. All told, she performed in 25 pantomimes from 1943 to 1975. She last trod the boards in 1975/76 Pantomime
'The Witch"
. Members of the LTM Pantomime Company were honoured to have her in the audience when
"Miss Annie"
, a remake of "The Witch" was performed in Toronto Canada, in 2003.
Miss Lou died on July 26, 2006 in Toronto. She was accorded an official funeral at the Coke Methodist Church, and interred at National Heroes Park beside her husband Eric "Chalk-Talk" Coverley.